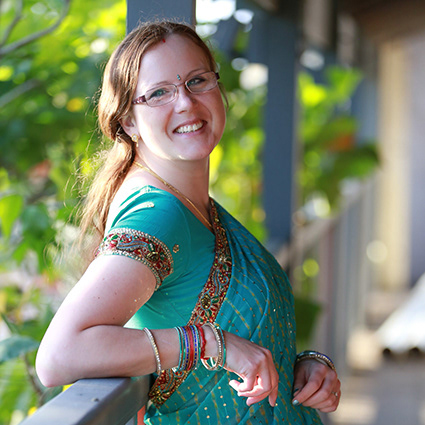 Lene Makwana is a Perth, Western Australia based mixed media artist from Norway. Her interest toward art started as a child and was fostered throughout her schooling.
She has studied fine art and art history at Einar Granum School of Arts in Oslo, Illustration at Kristiania University College in Oslo and has completed her BA Illustration Design from Curtin University in Perth. Leaving Norway, she took with her knowledge of Scandinavian design trends and its characteristic of clean lines and simple colour palettes, and currently works on international and global projects from her studio in Perth.
Lene's art is characterised by detailed patterns and tactile surfaces, and she has worked on art and design projects in Norway and Australia. Her architectural elements and pattern - work inspired by systems and grids are suitable for a variety of different uses in interiors and aesthetics.
My art explores the diversity of self, created from living between three diverse cultures. I am Norwegian, and I live in Australia with my Indian husband, and I have encountered many differences but also similarities between the cultures of these three countries and am inspired by how my sense of self has grown being a part of all of them. Being present within, but also being between cultures has given me an opportunity to embrace certain aspects of each whilst growing and enriching my own sense of self. I am fortunate to be able to speak from this perspective, and nd that it enriches my art, and pushing it beyond colour and shape. My work is also a channel for re ection and explorations on inner levels.
The "Construction" series, which is a body of work in progress, address aspects of personal, cultural and social construction of identity through the impact of globalisation. The series will be completed when I reach 100 pieces, and the body of work has led me to focus on abstract imagery rather than gurative, as I found that abstract elements gave me more freedom to explore than what gurative elements could. With the explorations of abstract elements, the diptych entered my work as a way to introduce aspects of time and space into my work.
My Scandinavian background has for my work resulted in ba anced and clean compositions, and with limited colour palettes. It is important for me to keep an open and intuitive approach to my work, where small and sharp-edged details are combined with soft surfaces and textures as a result of my preferred mediums; water- colours and inks.